I've been making my own salad dressings for several years. I can't even remember the last time I bought dressing from the store, but I learned something new today about using an emulsifier to combine everything so the oil doesn't separate from the other liquids. Most store bought dressings have some sort of weird emulsifier you can't pronounce, but there are a few basic ones that are very accessible. Honey, miso, mustard, maple syrup, and mayonnaise are the most common.
Try some of these ingredients and make your own dressing. Just remember to use the olive oil to liquid ratio concept. I prefer one part olive oil to one part other liquid. Some people prefer two or three parts oil to one part liquid. Try some ratios and see what you prefer. Just remember to use high quality cold pressed olive oil. Trader Joe's has a California Extra Virgin cold pressed oil I like right now.
Here is a simple Asian sesame dressing recipe to be used with any greens. I finely sliced cabbage and zucchini with a mandolin on its finest setting. If you don't have a mandolin, check out my post on mandolins.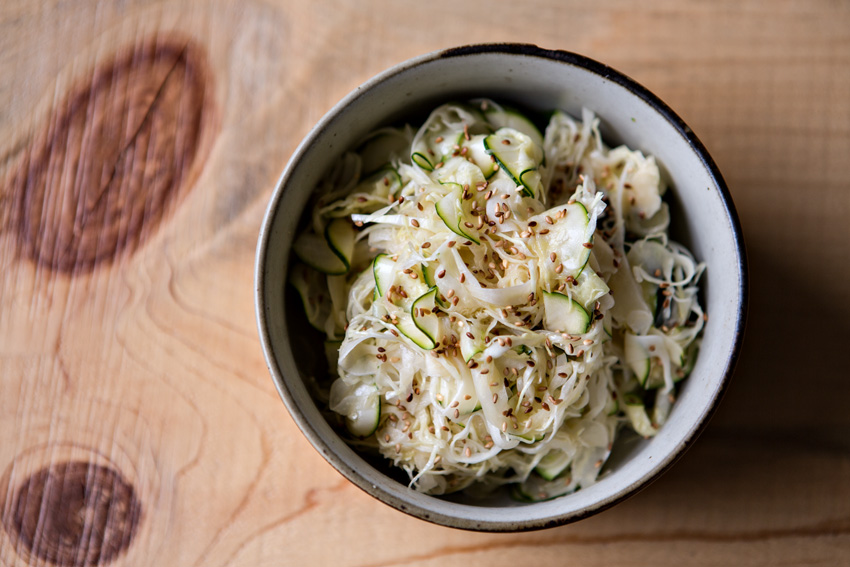 Recipe for about 4-6 servings:
4 tablespoons olive oil
juice of 1 lemon
1 tablespoon soy sauce
thumb size piece of ginger finely grated
1/2 tablespoon honey
1/4 teaspoon sesame oil (a few drops goes a long way)
Add all ingredients to small mason jar and shake it like a Polaroid picture.
Add to any greens. Add some toasted sesame seeds. (For ultimate flavor, buy raw sesame seeds and toast them in a pan on low right before)