Peppers were super cheap, so I bought a ton and roasted them to use in a bunch of recipes. I like roasting big batches, so I can eat some right away and freeze the rest. I love to use them to make tapenades, put in sandwiches, and rough chop them to add in rice or beans. Check out this method of roasting peppers so you can remove the skin leaving you with a smooth and silky sweet pepper.
Here's how to roast peppers for maximum flavor:
Toss whole peppers in a large mixing bowl with enough olive oil to coat. Add salt and pepper. You can also add a peeled onion cut into quarters and a whole bulb of garlic broken into pieces if you like.
Put on a cookie sheet and bake in the oven at 400 degrees for 45 minutes. They taste better if they char black in some spots (but not too black). You will peel off the skin anyway. If they don't darken, you can add them to the broiler for 5 minutes on high.
Turn them half way through to get color on the other side.
Remove from oven and IMMEDIATELY put back in mixing bowl and cover the mixing bowl with plastic wrap to lock in the steam. The plastic wrap will start to puff up if you've created the seal correctly. It usually takes 2-3 pieces to seal the bowl.
Let sit in the fridge until cool. They get better after a day in the fridge, but you can move onto the next step as soon as they cool down.
Uncover and peel the skins off by hand. They should just peel off like butter. Remove the stems and seeds.
Add to any recipe.
To freeze, add to a mason jar and cover with the juice left over in the bowl. Fill 70 percent of the way, add cap, and freeze.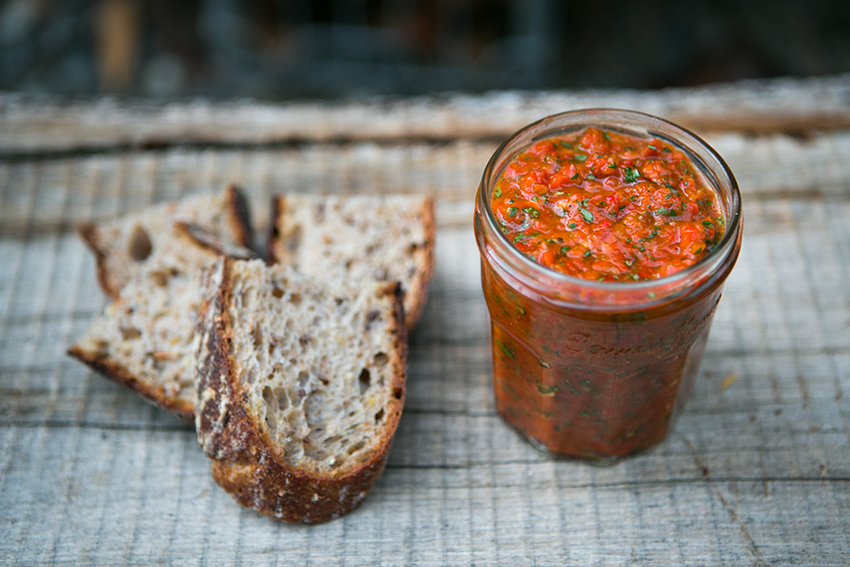 Here is a pepper tapenade recipe:
4 roasted bell peppers
1/2 roasted onion
3 roasted garlic gloves
handful of basil
3 tablespoons olive oil
Roast peppers, onions, and garlic and peel.
Rough chop everything with a knife or use a food processor.
Add olive oil to get the consistency you want.
Add salt and pepper to taste.
Eat with high quality bread.