I've been making semi sweet oat snacks to curb midday hunger for my wife and I, and it has been a fun experiment to find our favorite combinations. My goal was to have a snack that wasn't too sweet made with high quality oats, flax seeds, and chia seeds. Here is one I came up with that I like.
These are very quick to make because you don't need to bake them. Total prep is less than 10 minutes.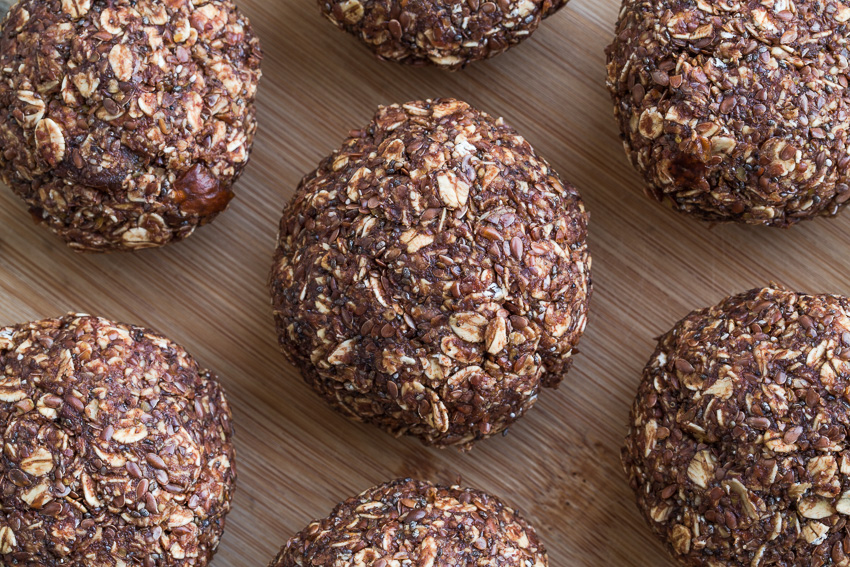 Ingredients
5 cups organic oats
1/2 cup ground flax seed
3 tbsp ground chia seed
2 tbsp honey
1 tbsp molasses
1/2 cup chocolate chips
1/2 cup chopped dates
1/2 cup hot water
Optional – 1 tbsp mate powder for energy
Here's how it's done
Pour oats, honey, molasses, chocolate chips into mixing bowl.
Add hot water
Mix together. The chocolate chips will start to melt
Add ground flax and chia seeds. Mix more.
Form into whatever size and shape you like. If they are not holding together you can add more molasses. If they are too runny, then add more oats.
Put in fridge to set. Store in fridge.