This is my new favorite dish. It's a perfect appetizer. It's very simple and looks beautiful. The ingredients are inexpensive. It's super fresh but still bold in flavor. What more could you ask for? I've done a chimicurry in the past, but this one is a bit different. I've added fresh thyme and oregano, and I think it really changes the flavor.
Try to use fresh oregano and thyme. It's well worth the extra cost. If you don't already have a plant of each growing in your garden or in your window, just use the two dollars you would have otherwise spent at the grocery store buying cut herbs and buy a plant. They are only three dollars at the home depot. They grow like a weed and you can't kill them. Having herbs fresh at your fingertips is well worth it.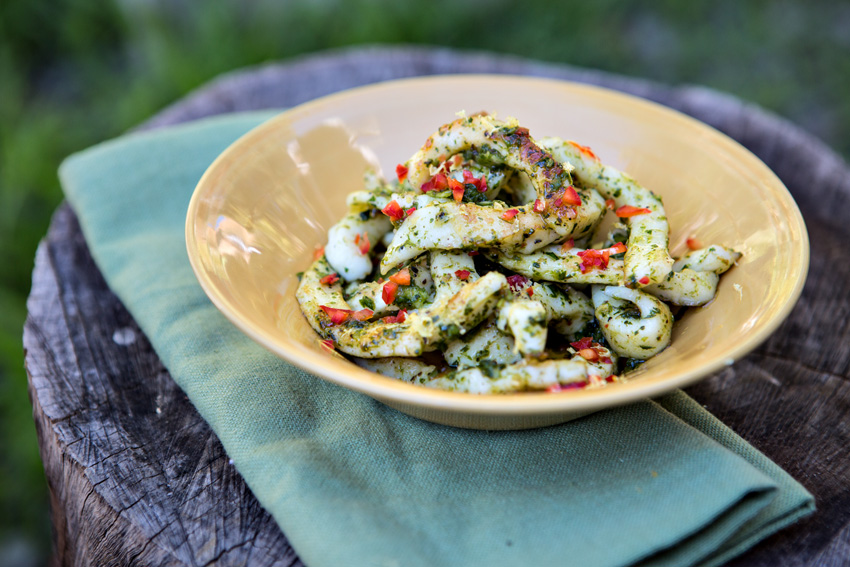 Recipe for 4 servings:
1 pound calamari steak
Handful of cilantro
3 cloves garlic
1 packed teaspoon fresh oregano
1 packed teaspoon fresh thyme
1 red chili finely chopped
4 tablespoons olive oil
1 teaspoon ground bay (optional)
2 tablespoons lemon juice
lemon zest
Cut calamari steaks in thin strips. Add salt and pepper
Warm pan on medium heat WITHOUT OIL. When pan is warm, add oil, wait a few minutes, and then add calamari. Starting with medium heat avoids spitting oil and allows you to cook the calamari with a nice crust. After adding to the pan DON'T touch the strips. Just set the temp on medium low and let cook. They will stick at first, but they will lift off when the crust forms. Cook for about 5 minutes on medium low on each side. Remember medium low. Cook them slower and they will be more tender. It's the slow down cook more philosophy.
In a food processor, add the cilantro, garlic, oregano, thyme, and bay powder and pulverize. If you don't have a food processor your can do it the old school way like I do. Just finely mince all the ingredients with a knife and bash it up in a pestil and mortar. Then add the oil and lemon juice to the mixture and stir it together. Add salt and pepper to taste. This can be made a day ahead of time if you want.
When the calamari is crispy and delicious, just combine it with the chimichurry and top with more chili and lemon zest. Eat warm or at room temp.