Hummus is awesome, but it can be expensive. The ingredients are so cheap and the process is so simple, that I refuse to buy it at the store. Plus, if I make it, I get the luxury of leaving out the ingredients I can't pronounce. I've been experimenting with different hummus recipes, and this was one of my favorites. I roasted a big tray of bell peppers and garlic to use throughout the week, and used some for this recipe.
If you have a pressure cooker, you can cook your beans in half the time. I like to overcook them a little so they become creamy when blended in the food processor.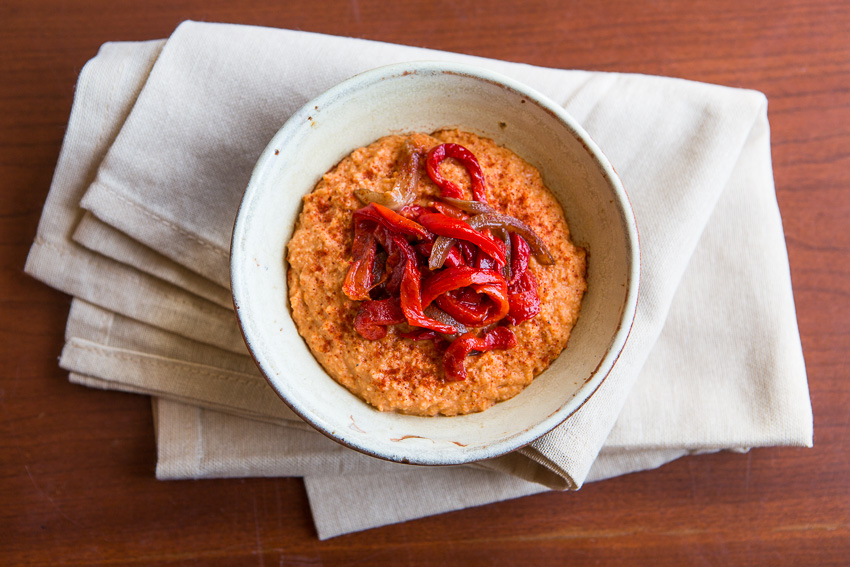 2 cups cooked garbanzo beans
1 cup roasted bell peppers
4 roasted garlic cloves
1/2 caramelized onion
Juice of 1 lemon
2 tablespoons olive oil
2 tablespoons tahini
1 teaspoon smoked paprika
Soak beans overnight. Drain water and rinse beans. Cover beans with fresh water. Bring to boil and reduce to low heat. Cook for 40 min.
Roast peppers in an oven at 350 for 30 min. Put in bowl and cover with clear wrap and let cool. The clear wrap will trap steam and separate the skins from the meat of the pepper. Peel off skins. (you can also buy jarred roasted peppers)
On low heat, caramelize onions until golden but not burnt. You can add the garlic with the onions if you don't want to roast them in the oven.
In food processor, blend garbanzo beans, roasted peppers, garlic, onion, lemon juice and olive oil until smooth. Add a little more olive oil or lemon juice if it's too dry. Season to taste.
Top with leftover roasted peppers and caramelized onions. You can also sprinkle smoked paprika on top for more flavor.